Contact H.L
mail@thehollywoodliberal.com
Translate This Site:
English
Japan
France
Russia
Italy
Espana
German
&nbsp
Brazil
Wednesday, May 03, 2006
Bush Sees The Light.
This is a 4 Part Comic.


See The Rest Of The Strip
Here
News:Chalabi Cooking Intelligence Again. Congressional Sex Scandal Looms. Pro Football Team to Wear Biblical Jerseys.
Raw Story
Chalabi involved US, Iran policy making again, current and former intelligence officials say

Excerpt:
Ahmed Chalabi, the man who helped provide cooked intelligence on Iraq to the Pentagon and the New York Times in the lead-up to war, is once again being engaged in US policy decisions, current and former intelligence officials say.
According to two former high level counterintelligence officials, one
former senior counterterrorist official and another intelligence
officer, Chalabi is acting as broker between the US Ambassador to Iraq,
Zalmay Khalilzad, and Iranian officials in what are now stalled
diplomatic efforts between the US and Iran.



ABC News
Congressional Sex Scandal?

Excerpt:
The Congressional payoff scandal may soon be known as the Congressional sex scandal.
The FBI is now investigating whether hookers were part of the scheme used by defense companies to get lucrative contracts.
We already know about the cash, cars, mansions and yachts that changed hands in the case of disgraced former Congressman Duke Cunningham.
But now sources close to the investigation tell us, as well as the Washington Post and the Wall Street Journal, that sexual favors may have been part of the deal.



Birmingham Steeldogs.com
Alabama Arena League Football Team To Wear Biblical Jerseys on Bible Night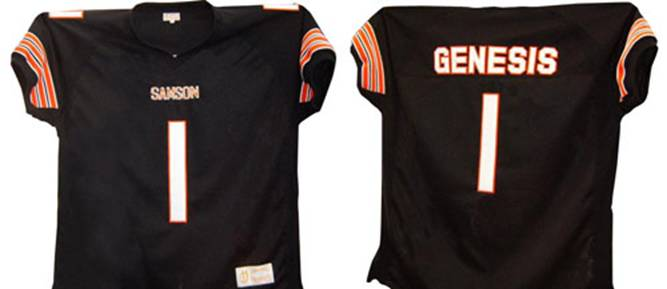 Excerpt:
BIRMINGHAM, Ala. - For the first time in sports history, a professional franchise will wear Bible-themed jerseys during a game. On Friday, May 5th, the Birmingham Steeldogs arena football team, which plays in the arenafootball2 league (www.af2.com), will don jerseys with the name of Bible hero "SAMSON" embroidered on the front as they take on the Louisville Fire at the Birmingham-Jefferson Convention Complex. Specific Bible chapter and verse references will be created by combining the names and numerals on the backs of each player.
For example, Steeldogs quarterback Ryan Hawk wears jersey number 12. On May 5, he'll still wear number 12, but the name on his back will change from "HAWK" to "JAMES", referencing the book of James, Chapter 1 Verse 2. The Bible-themed Steeldogs jerseys are the latest creations of Christian Throwback Jersey Company (www.christianthrowbackjerseys.com) of Birmingham.