Posted in Main Blog (All Posts) on June 30th, 2008 4:40 am by HL
Florida 's First Execution Since Botched One Set For Tuesday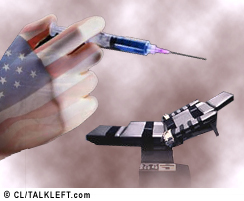 On December 13, 2006, Angel Diaz of Puerto Rico was executed by lethal injection in Florida. It took 34 minutes to kill him.
An autopsy later revealed that the IVs inserted into Diaz were faulty, the drugs were injected into his tissues, not his veins, and they also were released in the wrong order so that Diaz received the last, painful drug before he should have. The autopsy revealed a foot-long chemical blister in his body tissue.
Gov. Jeb Bush ordered an investigation and a moratorium on executions ensued. Fast forward to Tuesday when Florida will resume killing inmates by lethal injection. [More…]
Florida will continue to use the three drug cocktail that the Supreme Court ruled in April does not constitute cruel and unusual punishment.
Of the three drugs, sodium thiopental is supposed to make the inmate unconscious. Pancuronium bromide paralyzes the muscular system. The third, potassium chloride, stops the heart. But critics say the last drug burns veins, and it causes severe pain if the inmate is not fully unconscious.
Florida says it has established new protocols.
The new procedures require that the personnel overseeing an execution receive the training needed to determine whether the first drug in the cocktail renders the inmate unconscious. The execution cannot proceed if it doesn't.
The new protocols will be tested Tuesday on Mark Dean Schwab, age 39. His lawyers have concerns.
An analysis done for Schwab's lawyers showed that nine of the 30 mock executions performed by Florida's Department of Corrections between September 2007 and May were failures, said one of his state-paid attorneys, Mark Gruber.

The corrections department said its mock exercises have included preparation for potential problems such as a combative inmate, the incapacity of an execution team member, power failure and finding a vein. "Training for the unexpected is not a failed mock execution," said Gretl Plessinger, a corrections department spokeswoman. "We're planning for contingencies."
Schwab's execution will take place at Florida's death chamber in Starke, about 40 miles southwest of Jacksonville.